The Newsroom. News and events surrounding the campaign.
Multiple Community Endorsements for Dr. Omeish, Special visit from Congressman Keith Ellison
Dr. Esam Omeish's campaign for delegate is pleased to announce multiple endorsements. These endorsements are indicative of Dr. Omeish's strong support within our community, and are a testament to his activism in addressing the issues of the day. Dr. Omeish strongly supports President Barack Obama's approach towards our community, and reaffirmed his commitment to acting as a liaison for the community to the White House.
Organizations endorsing Dr. Omeish are the Virginia Muslim Political Action Committee, the Arab American Virginia Democrats, and the Pakistani Political Action Committee and the Turkish American Political Action Committee.
Community leaders met for a fundraiser for Dr. Omeish along with the four groups that endorsed Dr. Omeish. Congressman Keith Ellison from Minnesota headlined the event and showed his support as a special guest for the fundraiser. "The very fact that you have ran a honorable campaign in this heated primary shows victory. Don't stop working, lay it all on the line" said the congressman.
Friends this race could not be tighter. Congrssman Ellison is right, we have to work around the clock to reach every single vote that we can. We need your help. We have only hours left until We Make History.
 Please come by the office and help make phone calls or talking to voters at their home.
2235 Cedar Lane Vienna, VA 22182 or call us at 703-255-2231
 Please Make A Contribution to help us in our massive GET OUT THE VOTE EFFORT! Give $5 $25 $100 or even $500 every dollar counts at this critical juncture of the campaign.

Virginia Muslim PAC (VMPAC)
"Dr. Esam Omeish is a candidate with an outstanding track record of service and civic engagement. His incredible credential of over 5,000 surgeries as the Chief of General Surgery at the Alexandria INOVA Hospital, many of which he had performed free of charge for those who couldn't afford the cost, is a testament to his quality as a fine human being, an accomplished physician and a dedicated service provider. We need Delegates of his caliber and compassion in the Virginia General Assembly, where his expertise to formulate a rational and beneficial health care policy will serve our Commonwealth well.
Based on these factors, Virginia Muslim Political Action Committee (VMPAC) proudly endorses Dr. Omeish's candidacy in the Democratic Primary Election for the 35th Delegate District."
Mukit Hossain, President

Arab American Virginia Democratic Caucus
"Dr. Esam Omeish proudly stands with the President in his call for Arab Americans and Muslims to help bridge the gap that divides us, instead to focus on those that can bring us together. Esam Omeish with a campaign message of "Together We Can" exemplifies this commitment and we the Arab American Democratic Caucus of Virginia proudly join him and endorse his candidacy for the 35th House of Delegates District in Virginia."
Samer W. BurganPast / President Saba Shami Past-President
Al-Hewar Magazine, Vienna, Virginia
I have known Dr. Esam Omeish and his wonderful family for over a decade. I know how dedicated Esam is to his work as a surgeon, as an Arab and Muslim American, and as person who believes in helping others. Virginia needs more people like Esam, who will ably represent his community, and will focus on important issues like improving healthcare, education, transportation, and the quality of life for the people of Virginia. He will represent Virginia with integrity and vision, and I strongly endorse his candidacy.
Sobhi Ghandour, Publisher

---
Secretary of State Hillary Clinton and State Department Invites Esam Omeish To National Conference Call to discuss reaction to President Obama's Speech to the Muslim World from the Campaign, June 4, 2009 (Contact: Marcus Brandon 703-255-2235)
Dr. Esam Omeish candidate for VA 35th delegate district was asked by the State Department on behalf of Secretary of State Hillary Clinton if he would participate in a conference call after President Obama's speech. Approximately 30 Muslim leaders around the country were invited to participate on a call to discuss the reaction to the speech and how the United States and Muslims around the world can bridge some of the difference that has divided them.
Dr. Omeish stated during the conference call, "I want to express my resounding support of our President, we are proud of him, we are behind him and support him whole-heartedly. American Muslims  represent America's great diversity, and their engagement and involvement is one of the most focused parameters that the Muslim world uses to perceive America. The president outlined a 7 item agenda and action plan and I would like to add another item -- the domestic agenda: How can we increase the involvement of Muslim Americans and get them more involved? (i.e. facilitate their involvement and provide opportunity for that to happen).
Dr. Omeish also added that, "I was deeply honored to be invited to participate in this historical moment. I am hopeful that the my friends on the far right and even some of those in the media, that continue to try and distort my record and my name, and continue to distort public perceptions of the Muslim community, will realize that we have a President and an Administration along with most of the American People that are ready to move beyond divisive politics, and that by working together in unison for an agenda of peaceful nation and a peaceful world is in the best interest of all of us."
Dr. Esam Omeish is a candidate for the 35th House of Delegates district in Virginia. He is a prominent surgeon in the area, father of four, and a community activist. He believes that these experiences will help him fight for the citizens of Virginia when elected to the House of Delegates.
---
Vienna Physician Kicks Off Campaign - by Donna Manz,Vienna Connection - April 22, 2009
---
Omeish Campaign Kick-Off Huge Success! from the Campaign, April 19, 2009
Dr. Esam Omeish had a full house for his Campaign Kickoff Party at the Vienna Firehouse this past Saturday. The party was the official start of Dr. Esam Omeish's race for Virginia's 35th District Delegate.  Over 250 supporters came and listened to Dr. Esam Omeish speak about issues like healthcare, education, and the economy.  "This is an exciting time to be engaged in politics" said Dr. Omeish. Speaking about his experience as a Physician and one of the only Surgeons in Va that has a clinic that provides free surgeries to the uninsured and under insured. Dr. Omeish went on to say that "First, I am a physician, an advocate of health care and a staunch supporter of the right of all Americans and all Virginians to have accessible, affordable, quality health care. This year is the year for serious health care reform and I want to be part of that change"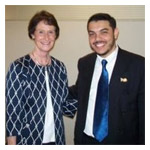 Special political guests who came to congratulate Dr. Esam Omeish included Fairfax County Board of Supervisors Chairwoman Sharon Bulova, State Senator of VA 39th District George Barker, Drainesville District Board of Supervisors John Foust, and Maryland State Delegate Saqib Ali.
Click here to see the photo gallery.